What is KEYPASS Ransomware
KEYPASS Ransomware is one of the varieties of STOP Ransomware, described by our team earlier. Virus already attacked users from 25 countries including Brazil, Chile, Vietnam, USA, United Arab Emirates, Egypt, Algeria, Indonesia, India, Iran, Poland, Belarus, Ukraine. This variation uses symmetric and asymmetric cryptography and adds .KEYPASS extension to the files after encryption. Also ransomware places text file !!!KEYPASS_DECRYPTION_INFO!!!.txt with the following content on the desktop:
Attention!
All your files, documents, photos, databases and other important files are encrypted and have the extension: .KEYPASS
The only method of recovering files is to purchase an decrypt software and unique private key.
After purchase you will start decrypt software, enter your unique private key and it will decrypt all your data.
Only we can give you this key and only we can recover your files.
You need to contact us by e-mail keypass@bitmessage.ch send us your personal ID and wait for further instructions.
For you to be sure, that we can decrypt your files - you can send us a 1-3 any not very big encrypted files and we will send you back it in a original form FREE.
Price for decryption $300.
This price avaliable if you contact us first 72 hours.
E-mail address to contact us:
keypass@bitmessage.ch
Reserve e-mail address to contact us:
keypass@india.com
Your personal id:
[id]
Intruders demand $300 ransom for decryption. They offer to decrypt up to 3 random files for free, to prove that decryption is possible. Hackers also warn, that if amount is not paid within 72 hours data restoration will be impossible. However, research shows, that files remain on the computer and in case encryption algorithm is broken open or master key leaked, users will be able to recover those files. At the moment, you can use instructions below to remove KEYPASS Ransomware and try to restore files using given opportunities and in-built Windows features.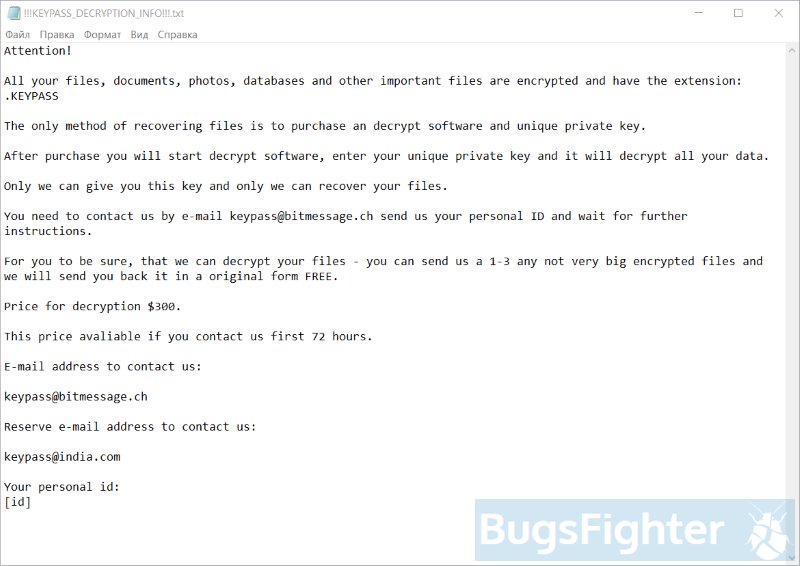 How KEYPASS Ransomware infected your PC
According to the victims KEYPASS Ransomware can be installed along with cracks, keygens and Windows activation tools like KMSPico. Can be also distributed by hacking through an unprotected RDP configuration, fraudulent downloads, exploits, web injections, fake updates, repackaged and infected installers. Virus assigns certain ID with the victims, that is used to name those files and supposedly to send decryption key. In order to prevent infection with this type of threats in future we recommend you to use SpyHunter and BitDefender Anti-Ransomware.
Download KEYPASS Ransomware Removal Tool
To remove KEYPASS Ransomware completely we recommend you to use SpyHunter from EnigmaSoftware Group LLC. It detects and removes all files, folders and registry keys of KEYPASS Ransomware.
How to remove KEYPASS Ransomware manually
It is not recommended to remove KEYPASS Ransomware manually, for safer solution use Removal Tools instead.
KEYPASS Ransomware files:
no information
KEYPASS Ransomware registry keys:
no information
How to decrypt and restore .KEYPASS files
Use automated decryptors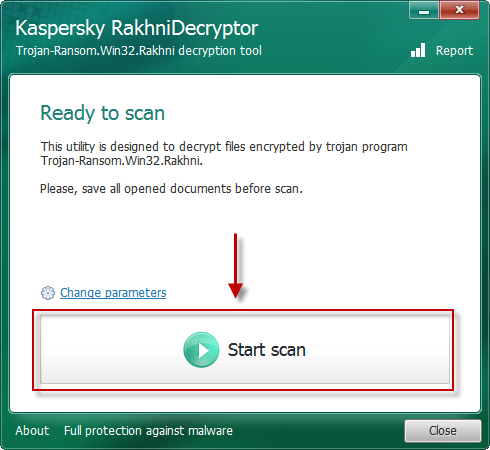 Use following tool from Kaspersky called Rakhni Decryptor, that can decrypt .KEYPASS files. Download it here:
There is no purpose to pay the ransom, because there is no guarantee you will receive the key, but you will put your bank credentials at risk.
If you are infected with KEYPASS Ransomware and removed it from your computer you can try to decrypt your files. Antivirus vendors and individuals create free decryptors for some crypto-lockers. To attempt to decrypt them manually you can do the following:
Use Stellar Phoenix Data Recovery Pro to restore .KEYPASS files
Download Stellar Phoenix Data Recovery Pro.
Select location to scan for lost files and click Scan button.
Wait until Quick and Deep scans finish.
Preview found files and restore them.
Using Windows Previous Versions option:
Right-click on infected file and choose Properties.
Select Previous Versions tab.
Choose particular version of the file and click Copy.
To restore the selected file and replace the existing one, click on the Restore button.
In case there is no items in the list choose alternative method.
Using Shadow Explorer:
Download Shadow Explorer program.
Run it and you will see screen listing of all the drives and the dates that shadow copy was created.
Select the drive and date that you want to restore from.
Right-click on a folder name and select Export.
In case there is other dates in the list choose alternative method.
If you are using Dropbox:
Login to the DropBox website and go to the folder that contains encrypted files.
Right-click on the encrypted file and select Previous Versions.
Select the version of the file you wish to restore and click on the Restore button.
How to protect computer from viruses like KEYPASS Ransomware in future
1. Get special anti-ransomware software
Use Bitdefender Anti-Ransomware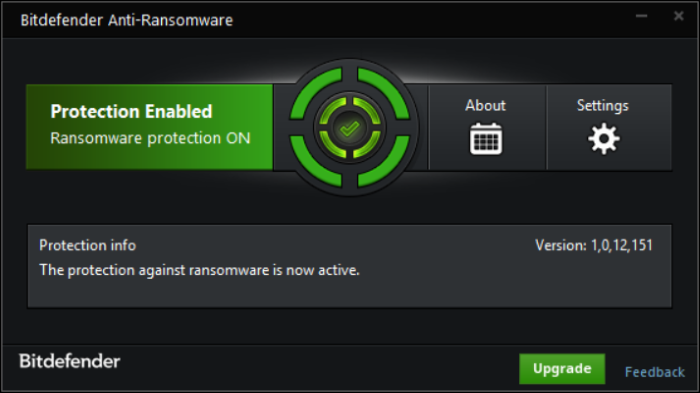 Famous antivirus vendor BitDefender released free tool, that will help you with active anti-ransomware protection, as additional shield to your current protection. It will not conflict with bigger security applications. If you are searching complete internet security solution consider upgrading to full version of BitDefender Internet Security 2018.
2. Back up your files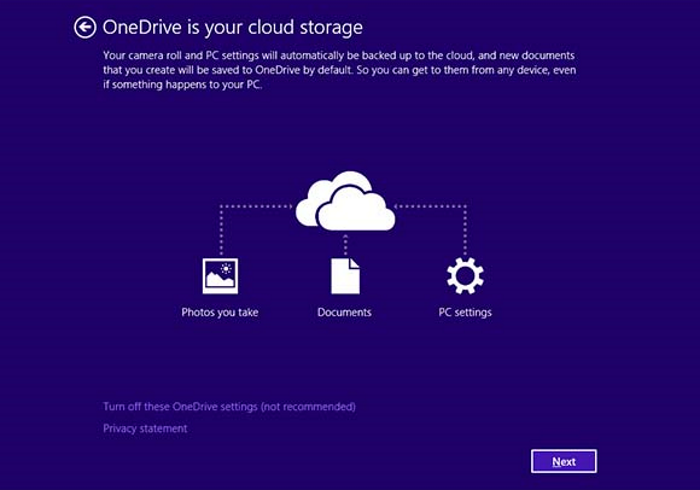 Regardless of success of protection against ransomware threats, you can save your files using simple online backup. Cloud services are quite fast and cheap nowadays. There is more sense using online backup, than creating physical drives, that can get infected and encrypted when connected to PC or get damaged from dropping or hitting. Windows 10 and 8/8.1 users can find pre-installed OneDrive backup solution from Microsoft. It is actually one of the best backup services on the market, and has reasonable pricing plans. Users of earlier versions can get acquainted with it here. Make sure to backup and sync most important files and folders in OneDrive.
3. Do not open spam e-mails and protect your mailbox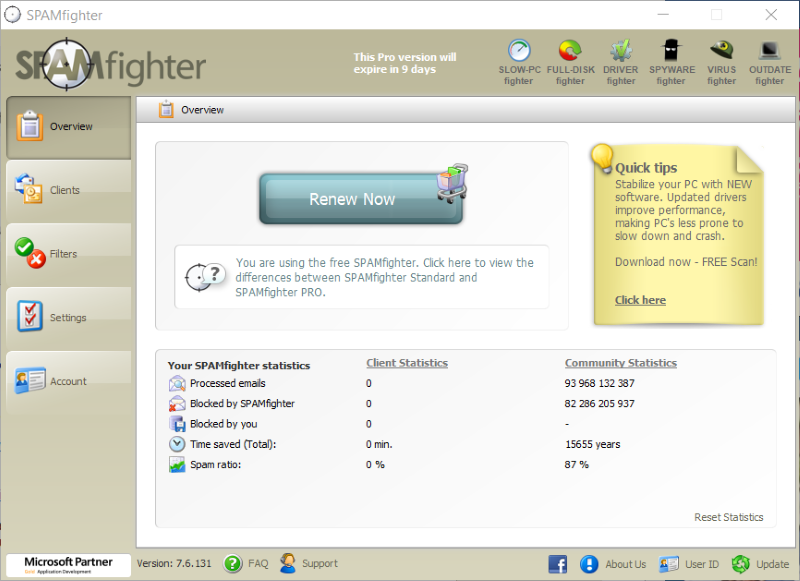 Malicious attachments to spam or phishing e-mails is most popular method of ransomware distribution. Using spam filters and creating anti-spam rules is good practice. One of the world leaders in anti-spam protection is SpamFighter. It works with various desktop applications, and provides very high level of anti-spam protection.